RechercheLivres (aka DieBuchSuche) - le moteur de recherche pour tous les livres.
Tous les livres de 9782819907701 - comparer chaque offre
Entrée de l'archive: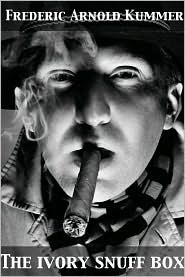 ISBN:
9782819907701 (?) ou 2819907709
, langue inconnue, pubOne.info, pubOne.info, pubOne.info, Nouveau, ebook, Téléchargement numérique
frais de port, Free Shipping on eligible orders over $25
The last thing that sounded in Richard Duvall's ears as he left the office of Monsieur Lefevre, Prefect of Police of Paris, were the latter's words, spoken in a voice of mingled confidence and alarm, «The fortunes of a nation may depend upon your faithfulness. Go, and God be with you.» He entered the automobile which was drawn up alongside the curb, and accompanied by Vernet, one of the Prefect's assistants, was soon threading the torrent of traffic which pours through the Rue de Rivoli.
Catégorie: Books ~~ Fiction ~~ Mystery & Detective - General
Mots-clés: The-Ivory-Snuff-Box Frederic-Arnold-Kummer
Données de 10-01-2013 13:56h
ISBN
(notations alternatives): 2-8199-0770-9, 978-2-8199-0770-1
9782819907701
Trouver tous les livres disponibles pour votre numéro d'ISBN 9782819907701 comparer les prix rapidement et facilement et commandez immédiatement.
Disponibles livres rares, de livres d'occasion et de livres de seconde main du titre "The Ivory Snuff Box" De Frederic Arnold Kummer sont complètement répertoriés.
markus flexeder lösungsbuch schmolke deitermann